News Archives
Sep 18th, 2012 02:26pm
The latest version of "Talking Kenpo" by Dennis Lawson is now available for sale on Amazon! The new version was enlarged to include 64 pages, 75 new illustrations, and comprises countless new insights into Martial Arts training in the 21st century.

Talking Kenpo explains the "Whys" of the movements in the Martial Arts through description, pictures and language. The book emphasizes the precise description of movement and its value when studying the Martial Arts.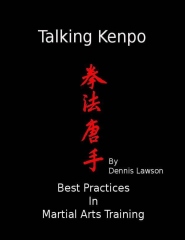 May 1st, 2012 06:20am
Dennis Lawson has recently published an E-Book called Talking Kenpo. This FREE product is available for immediate download from our Ebook page. Just submit your full name and a valid e-mail address for the publication. This product will be available at no charge for the next 90 days.
Nov 18th, 2010 06:55am
December 15 has been designated World Martial Arts Training Day. This day was chosen to honor Ed Parker, The Father of American Karate. Train --- for the love of training!
Apr 15th, 2010 03:07am
The 4th Residential was a huge success! To see what happened, be sure to read the review of the Residential.
Feb 26th, 2010 03:11am
Richard Matthews released a website advertising his Kenpoworks Progressive Martial Arts club. Be sure to visit it at http://www.freewebs.com/kenpoworks/
Aug 15th, 2009 06:40am
Richard Matthews is holding a seminar in Sweden entitled Kempo International World Championships. The date of this event is Friday, September 18 2009. Please email Richard at kenporich@hotmail.co.uk for more information.
Jun 13th, 2009 04:57pm
On the weekend of May 30, Richard Matthews was promoted to 7th in Denmark by the AKWA, it came after a long hard (but enjoyable) days teaching and training.

Richard acknowledges that it is a heavy belt to wear and one that takes a lot of growing into.

Kenpoworks online blog was used as the theoretical requirement of the promotion and the time served between promotions (5years) was also sufficient to qualify under most if not all EPAK guidelines, this and the fact that it is Richards 30th year in Kenpo and 34th year of unbroken training.

Congratulations Richard!
Feb 24th, 2009 04:28pm
Dennis Lawson will teach a series of seminars on 18 April 2009 at the Perrystown Community Center in Dublin, Ireland. Topics will include Words of Motion and Associated Moves among others. Mr. Lawson will be ably assisted by Ms. Lena Varuolo, associate instructor and Director of Information Technology for The Martial Arts Learning Community, Inc. All profits and donations for this event will go to benefit Barretstown Children's programs. Barretstown is a facility to help children with terminal illnesses and their families. (For more info go to www.barretstown.org.)

Our special guests for the event will include Mr. Michael Ilderton of East West Karate Studio in New Castle UK and Mr. Paul Christ, Kenpo 2000 instructor, of The Netherlands.

For more information, contact Mr. Gerry Lynch, Red Dragon Kenpo Studios, in Dublin, Ireland @ 011-353-145-09512 or write to us @ www.themalc.org.
Jan 31st, 2009 06:22am
On Saturday, February 21st, Mr. Gerry Lynch, TheMALC's International Treasurer, will be teaching a seminar in Newcastle, U.K. as the guest instructor for Mike and Dee Ilderton.
Jan 16th, 2009 08:49am
JJ Simon recently had a two part article published on Daily Buddhism entitled Real World vs. Cushion Buddhism, Part 1 and Part 2. Thanks for sharing, JJ!
Dec 31st, 2008 08:31am
It is a primary mission of the directors of The Martial Arts Learning Community (The MALC) to impact their communities. I am pleased to announce that our first article Humility by JJ Simon was recently published, in an abridged version, in the newsletter of a local manufacturing company here in Maryland. JJ's longtime friend, Bill Marriner, thought that his entire company would benefit from JJ's message. Way to go, Bill!
Dec 15th, 2008 08:46am
December 15 has been designated World Martial Arts Training Day. This day was chosen to honor Ed Parker, The Father of American Karate. Train --- for the love of training!
Nov 30th, 2008 04:38pm
Recently, theMALC had it's first event in Newcastle in the U.K. Details and photos should be coming soon!